Biography for Urmila devi dasi (Dr. Edith Best)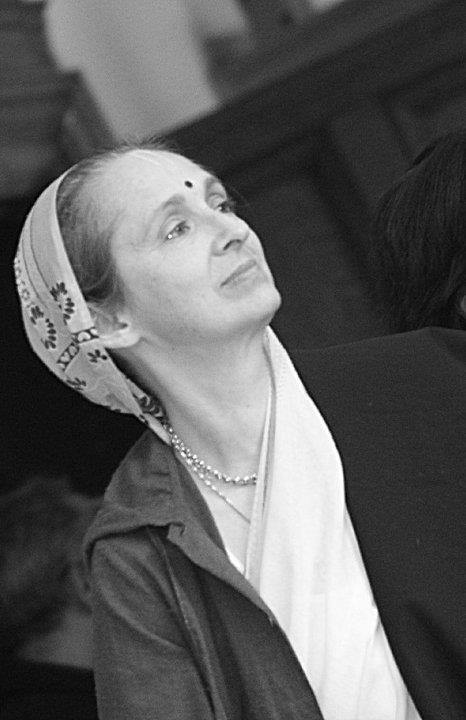 Brief Biography
Urmila devi dasi (Dr. Edith Best) has served ISKCON continuously since her initiation by Srila Prabhupada in 1973. She and her husband are in the vanaprastha order since 1996. They have three married children, 13 grandchildren, and two great-grandsons. She has a PhD in education, was a primary and secondary teacher for 27 years, and has 19 years of experience with school management. Urmila is the chair of the Sastric Advisory Council to the GBC, was an associate editor of Back to Godhead for 30 years, and formerly a professor of Sociology of Religion at Bhaktivedanta College. She travels worldwide teaching Krishna consciousness. She is the author of Krishna Meditations, Essence Seekers, Dr. Best Learn to Read, an 83-book literacy program, and The Great Mantra for Mystic Meditation. 
Full Biography
Born in 1955 in New York City, Urmila Devi Dasi joined ISKCON (The International Society for Krishna Consciousness) in 1973 in Chicago, while a student at Bennington College. In secondary school, she was state and district champion in extemporaneous speaking, going to the quarter finals in the national tournament. Urmila Devi Dasi received first initiation by mail in 1973, thus becoming a disciple of His Divine Grace A.C. Bhaktivedanta Swami Prabhupada, the founder of the Hare Krishna Movement. She first saw Srila Prabhupada in the summer of 1974 and had several opportunities, along with her family, to meet with him personally. She received second initiation in Philadelphia in 1975. Urmila Devi Dasi has served in ISKCON continuously since 1973.
She has her Bachelor's of Science from Excelsior College (of the University of the State of New York) in Religion and Education. From the University of North Carolina at Chapel Hill, a Master of School Administration, and a PhD in Educational Leadership. Her primary research has been on job satisfaction of teachers in Krishna primary and secondary schools worldwide. She is certified as a Master Practitioner of Neuro-Linguistic Programming, a counseling and teaching system. She is also certified in the Prepare system of pre-marital counseling.
In 1973 Urmila Devi Dasi married Pratyatosa dasa. They have three children—Murari dasa, a disciple of Satsvarupa Maharaja (married and working as a software engineer); Campakalata Devi Dasi, a disciple of Bir Krishna Maharaja (married and working as a bharatanatyam dance teacher and academic teacher); and Keshava dasa (married and working as a business consultant). They also have thirteen grandchildren, one of whom is married, and two great-grandsons. Pratyatosa Dasa and Urmila Devi Dasi have lived as vanaprasthas since early in 1996. Urmila lives under the protection of her sons.
Urmila Devi Dasi's service in ISKCON has included work as a book distributor, assistant secretary for the BBT, pujari, temple cook, actress, writer and editor. Her primary work has been in the area of education. She has spent a total of five years running and teaching in a pre-school, mostly under the guidance of Jyotirmayi Devi Dasi. In 1982-83 in Detroit, Michigan, she and her husband started a primary school which gradually grew to include secondary students. Urmila became one of the academic and sadhanna teachers. She soon became the principal of the school that they ran for eight years. The family moved to North Carolina in late 1990. She then started another primary and secondary school, where she worked as the principal and main teacher. In 1984 she worked on a history textbook with Drista dasa, and soon afterwards finished writing and compiling Vaikuntha Children, a guidebook for education in ISKCON. Urmila Devi Dasi helped start the Grhastha Vision Team which is coordinating courses and materials to strengthen marriage and the family in ISKCON North America. She is also chair of the Sastric Advisory Council to the GBC. For 10 years she was a member of ISKCON's international board of education, and for 7 years was vice-chairman of the North American board. Urmila Devi Dasi continues to develop and teach local, national and international seminars for trainers, educators, and managers which she has done for over two decades. She has developed and taught numerous courses for primary, secondary, college, and adult learners in a wide variety of spiritual and practical subjects. She is also a feature writer, and for 30 years was an associate editor, for Back to Godhead magazine. Urmila's publications include Krishna Meditations, Essence Seekers, Vaikuntha Children, a guidebook for devotional education, The Great Mantra for Mystic Meditation, dozens of articles, and Dr. Best Learn to Read, an 83 book complete literacy program with technology enabling the story books to speak in 25 languages at the touch of a special "pen".